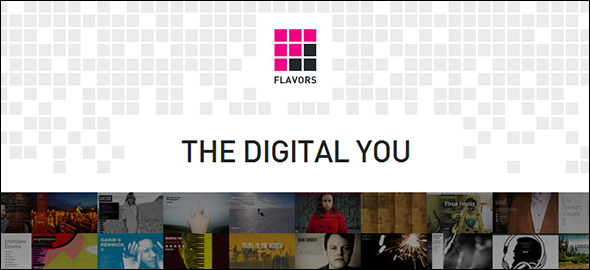 Let's face it. If you don't exist on the internet, you just don't exist. The very first thing you need to do is create a "Me Site" to serve as your digital portfolio, a place where potential employers can find everything they need to know about you. How?
Our online meanderings and our day-to-day lives have become a inextricable mish-mash of digital and analogue. Grumpy Cat's mug scowls at us as we annotate our textbooks. While sorting laundry, we idly tweet about being victimized by the sock monster. Instead of driving to a job interview, we check our hair in the monitor before logging into Skype. The gap between Internet and real life is no more.
Having an Internet life (read: online presence) is an absolute necessity in today's professional world. Through social networking, we can interact with peers and potential employers in our field and constantly open doors to new opportunities. For potential employers, your online presence that showcases your professionalism, passion, skills and industry knowledge screams PERFECT CANDIDATE!
So how do you create an online presence?
All you need to do is collect your life's work into one easily-found, visually-stimulating, impossible-to-ignore "Me Site."
Read-on! This is the first part of a five-part series that will illuminate the wonders (and woes) of the top five Me Site platforms.
Me Site Platform Option One: Flavors.me
Flavors was created in 2008 with the promise to be "the easiest and most stylish way to create a unified web presence". So easy, in fact, that it should take only 5 – 10 minutes, according to co-creator Jonathan Marcus.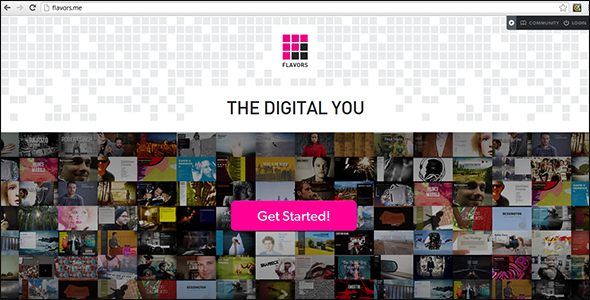 What's our first impression? It's great! Flavors successfully delivers both style and ease-of-use from the get-go. As soon as the website loads, the user is confronted by a sparsely designed page, occupied only by Flavors' logo, their tagline in bold type, and a single button that prompts the visitor to Get Started.
After a brief sign-up process, we're taken to our shiny new website, ready for customization. All modifications are made through a toolbar that provides users with a number of controls under five categories: About, Content, Design, Mobile and Promotion.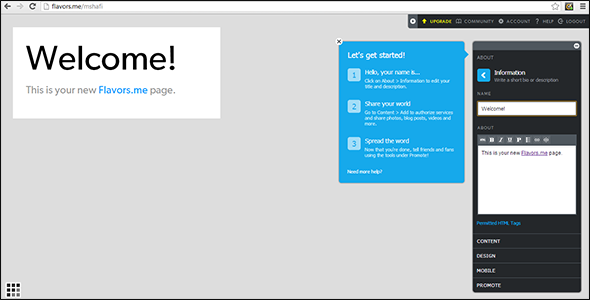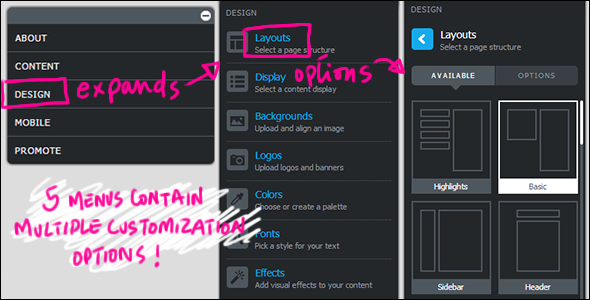 My favorite thing about Flavors.me is the number of ways the site can be tailored to the user's liking and specifications. Flavors offers 222 fonts, 36 social media services, seven different layouts, and countless colors to choose from.
Whipping up a quick header, bio, and catchy background takes less than 10 minutes, as Jonathan Marcus promised. Those of you who want more and are prepared to get your hands dirty can create a first-class Me-Site with an hour of thoughtful experimentation. It's worth it! Small improvisations such as changing your service icons from color to monochrome can make a big impact.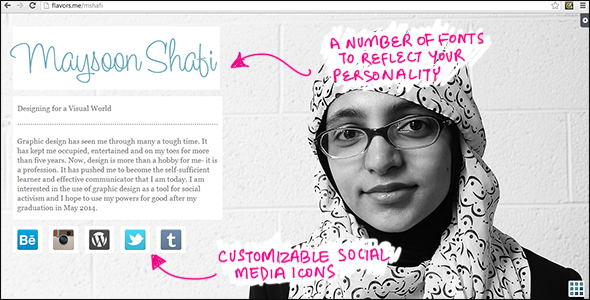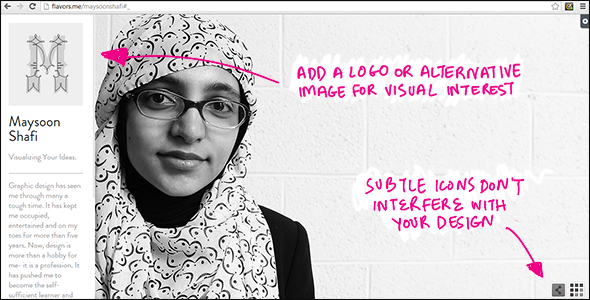 Alas, Flavors is not flawless. As I began to create my own page, the shortcomings of the site's interface became apparent. It's difficult to navigate the toolbar and predict (or even remember) where different options are located. Having the available layouts under the Layouts tab in the Design category makes sense. Having a drop-down menu in the same tab to customize service icons….? Not so much. In short, some deft hunting and memorizing what's where is required.
Another letdown is that there is a limitation to Flavors' services for free members. Only five social media platforms can be incorporated into your Me-Site without paying, and mobile sites, custom domains, contact forms and analytics are completely off limits. For $20 per year, however, you'll have access to all this and more. In the scheme of things, spending as much as you would on a Hibachi Steak at the Cheesecake Factory for a year of superb personal branding isn't unreasonable. But, when you consider that there are other platforms out there that give you these things for free… well, we'll talk about that in the next post.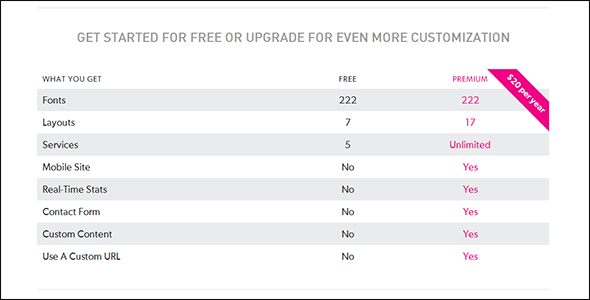 If you're a social media maven with a dozen services to your name but no money to speak of, the limit on social media links can be rectified by using custom links. It's up to you to determine your needs!
Flavors.me is a platform for those of you out there who are interested in putting a big, stylish, visually impressive "me" in your Me-Site. If you crave control, it will comfort you to know that the platform itself interferes very little with the appearance of your website. There are no conspicuous top bars or pesky pop-ups to divert attention from what you want people to notice: you and your brand.
Taking into consideration the site's mission, it's clear why Flavors is a top contender: it delivers.
NEXT ME SITE: About.me
Graphics by Maysoon Shafi
I'm a graphic designer, currently wading my way through junior year at Pine Manor College. My studies in Visual Arts and Communications have lead to the development of interests in new media and design as a tool for social change. I hope to use my powers for good after my graduation in May 2014, but in the mean time, I'm just a student-couch potato-blogger-photographer with an insatiable appetite for going to the movies.
Latest posts by Maysoon Shafi (see all)