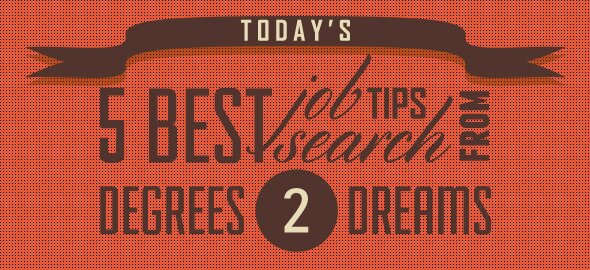 Calling all college students- you undoubtedly have enough on your plate without having to worry about how your college experiences affect the probability of you getting a job. But… it's true. So give these 12 College Experiences Your Resume Needs a shot. (It's as simple as joining a club)!

Not sure about your career path? Or maybe you're looking for a change. Here are the 10 Most In Demand Jobs and Skill Sets for 2013. It's pays to be informed! (Literally).

Sometimes all your social media strategy needs is a little link to set you on the right track. Check out these 9 Key Elements Missing From Your Social Media Strategy. You don't need to be a business for these to apply- remember, you're marketing yourself.

If your internship experience is going downhill fast, there's no need to waste your time. Read about How To Quit Your Internship The Right Way and open up the doors to a better opportunity without making waves.

Bloggers, you might think you're doing a fabulous job churning out those posts but clicking the publish button without going through the proper editing process is an shamefully easy thing to do. Make sure you content is as HQ as you think it is by going through The Ultimate Editing Checklist.