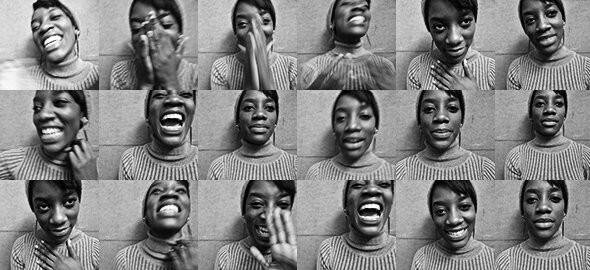 Unless there's a degree of disparagement involved, the words "professional portrait" and "cell phone" aren't normally used in the same sentence. More often "professional portraits" elicits things like Canon EOS 7Ds, makeup-melting strobe lights, and pristine backdrops. Yeah… not happening on my budget.
Fortunately for those of us without all that expensive equipment, cell phones and professional portraits aren't as mutually incompatible as some might have you believe. Thanks to mobile phone technology that gives us up to sixteen glorious megapixels to work with, and with the help of a few tips, you'll have a photo at your disposal that will stand up to the work of the professionals.
So, because you need a single, self-branding portrait shot for your "Me Site", your resume, business cards, and all your social media profiles and "About" pages (think LinkedIn, Twitter, your blog, etc.), here's the Degrees2Dreams Guide to shooting your own portrait with your cell phone:
1. Landscape Trumps Portrait
They call it "portrait format" but don't let them fool you. If you rotate your cell phone a mere 90°, I promise you'll be a happier person in the long run. Not only are horizontal portraits more flattering and visually interesting, they're also far more versatile. Photographs taken in landscape orientation can be left horizontal, cropped into a square (think Twitter, Facebook and LinkedIn), or narrowed down to become a vertical.
On the other hand, transforming a vertical portrait into a horizontal layout is rarely successful.
2. Get Up Close And Personal
You'll find that your cellphone (especially if it's an older model) will take better photos if you shoot close up instead of from a distance. The farther your subject is from your cell phone, the more you will experience a decrease in resolution. Zooming in also reduces the quality of the photo.
So get up close! When you're close to your subject, cell phones can take phenomenal headshots. The focal point of your portrait is you, not stuff around you. Filll the frame with your face — a little narcissism never hurt anybody!
Watch out- if you get too close, you'll have trouble focusing, so settle for a happy middle ground and include, at least, your head and shoulders.
3. Florescent Lighting and Flash Are Evil
Natural lighting is a gift from the-powers-that-be. Use it! Whether the sun is out, or it's woefully overcast, taking your portrait outside (or even facing a window) will make you look like a million bucks. The florescent lights in your bathroom, on the other hand, will make your dark circles look like a million bucks. Do yourself a favor!
An evil even greater than florescent lighting is flash. Try comparing a portrait taken in natural lighting with a portrait lit by flash and you'll be convinced of its malevolence as well.
Flash, while convenient, eliminates shadows and in doing so, flattens out your features. Without the dimensionality created by a little chiaroscuro, your portrait will appear listless irrespective of how great your smile is.
4. The Golden Rule
The Rule of Thirds is used to add balance and beauty to works of art and it can do the same for a professional portrait.
The key is to mentally divide your cell phone screen into three even sections, horizontally and then vertically, like a tic-tac-toe board. Your body should overlap with one of these imaginary verticals. Your eyes, in turn, should be positioned 1/3 of the way down your screen on a horizontal.
This guarantees that the focus of your portrait will be the eyes and, as any Baroque artist of old would tell you: eye contact is the key to connecting with your viewer or, if you're lucky, your potential boss.
5. Strike a Pose
Now, for some third-party advice. While endeavoring to take my own self portrait, I asked a professional photographer what she thought would make a good headshot. "I", she said, "would do the head tilt," (she demonstrated) "but in a professional way, not a come-hither way." At the time, I had been hoping for advice more epiphanic in nature but my anonymous benefactor makes a good point.
You do not want to look sexy in a professional portrait! This may seem like an obvious tip to some, but we see way too many come-hither self portraits on LinkedIn and business cards and "About" pages, so we belive it cannot be emphasized enough. Ladies and gentlemen, button up your shirts, straighten your backs and leave the duck lips at home for this one.
Portrait photographer Peter Hurley also endorses the head tilt. He suggests angling the forehead down towards the camera and stretching the neck outwards a degree. This helps eliminate any extra chins waiting to wreck your photo, and gives you that chiseled jaw line that seems only to exist in magazines and sculptures. While you might feel like a bit of an awkward turtle, you'll look great!
6. Self-Portraiture
If you find yourself without a friend to photograph you, or if you're just shy, taking a self-portrait with your phone is absolutely possible. Smart phones with front-facing cameras are convenient in such situations. You'll be able to compose your portrait with minimal face-palming. There are sacrifices in quality when you take this approach because the smart phone's front-facing cameras usually are lower quality than the main camera.
For those of you with older mobile phones (and no front-facing camera, find a (preferably portable) mirror. Then, instead of holding your phone facing the mirror in that oh-so-Facebook-esque way, flip it around so the screen is facing the mirror instead. You'll be able to see yourself without appearing in the photo with your phone.
Try your utmost to avoid photographing your outstretched arms. This would be a perfect time to be hit by some of those cosmic rays that gave Mister Fantastic his powers, but since this is unlikely, the crop tool is at your disposal.
7. Take A Look Around
Take your surroundings into account! Standing in front of a neutral or repetitive background such as a brick wall or fence might be boring but it will keep the viewer's eye on what's really important — you. Photographing yourself in busy area such as a café or the art studio (guilty as charged), will take the focus away from your face. A background busy with color and lots of objects diverts attention.
This problem is easily rectified with a real camera by adjusting your aperture. Cell phones have not come so far, so that brick wall must be sounding more and more enticing. If not, never fear, apps are here. You can use a photography app to blur your surroundings to force the focus to be on your face, or use the photo-editing software on your computer.
8. Go Grayscale
As a lover of analogue photography, I am utterly biased: Black-and-white is better. It is! Black-and-white photographs allow the viewer to remain focused on the subject rather than "Oh, that shirt color is just horrendous on her!" One way to minimize subconscious (or conscious) cataloguing of your appearance is to go monotone. It'll keep their eye on the prize!
Black and white images also tend to add a level of formality to even the most generic photos. When taking a professional photograph, this will elevate your portrait to a higher standard.
Now go forth and conquer! With the help of these tips and a bit of practice, you'll have a hassle-free, stunning, professional portrait that will give your "Me" site personality and make it memorable…in a good way. And isn't that the point? You want to stand out from the crowd, and this will do the trick. Especially if you use it as a branding tool by using the same photo everywhere: your "Me" site, your resume (selectively), your business cards, your letterhead, your "about" pages on your social media sites, etc.
So, what are you waiting for, get out there and start shooting!
I'm a graphic designer, currently wading my way through junior year at Pine Manor College. My studies in Visual Arts and Communications have lead to the development of interests in new media and design as a tool for social change. I hope to use my powers for good after my graduation in May 2014, but in the mean time, I'm just a student-couch potato-blogger-photographer with an insatiable appetite for going to the movies.
Latest posts by Maysoon Shafi (see all)