SocialFix: Top Tips for Adding Contact Info To Your Blog
In all honesty, the contact form widget was not the first thing I added to my WordPress Blog. A customized theme, header and About Page content came first, and THEN a contact form, complete with perky I-look-forward-to-hearing-from-you graphic. My blog, still adjusting to extra-uterine life, is not likely to receive much (read: any) feedback. The only attention my blog has garnered is from those hoping to remedy my erectile dysfunction. 
Read More »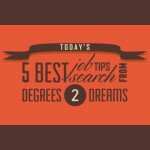 Today's 5 Best Job Search Tips From Degrees2Dreams
Search Engine Optimization may sound like a daunting task but check out 8 Ways To Improve Your SEO In 20 Minutes or Less. You'll be up in the ranks in no time.

Addressing the correct person in your cover letter and emails when applying for a job is of vital importance. If a name isn't readily available, here are 7 Ways To Get a Hiring Manager's Name. 
Read More »
Anyone who takes a look at my resume will find it brimming with positions such as "Library Assistant", "Resident Assistant" and "Office Assistant". The only thing these three jobs have in common (aside from the fact that I did them and that woebegone a-word) is that they lasted for the duration of a semester. 4 months. 16 weeks. 120 days.
"Hi, my name is Maysoon Shafi and I'm a job hopper."
What works with hiring managers? If it's HubSpot's Inbound Marketing Manager Rebecca Corliss, it's passion. Passion blogs, in particular.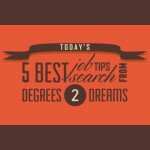 One sure-fire way of getting people to read your blog is to have well designed posts. Here's an article on Individual Blog Post Design to get you started.
Interviews are hard enough without bringing food into the mix. Here are 6 Tips For Handling Lunch or Dinner Interviews when your venue is decided for you.