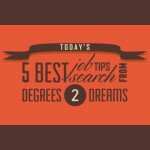 5 Best Job Search Tips From Degrees2Dreams
Not everyone graduates with a 3.5! Here's How To Get a Recommendation If You're Not an "A" Student.

Looking into a company's dress code before a job interview can help you make a great first impression. How do you that without acquiring a restraining order? Check out 14 Ways To Research Company Culture.
Read More »
SocialFix: Blog Content Woes? What Blog Content Woes?
"Grasping at straws", "like pulling teeth" and "in a pickle" are just a few idioms that come to mind when faced with a blank page and a blog post to write. The first step is always the hardest, but never fear- there's a light at the end of the tunnel!
Read More »