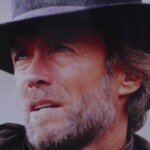 Having trouble getting that first job?
Doesn't it feel sometimes like Clint Eastwood is staring you down with his piercing eyes, asking, "So, kid, what'll it be? Get off your ass and get a job!" Stressful, right?
Lucky for you Clint is not standing in your living room, grilling you on your future. It's most likely your parents or friends who are playing that role.
So how do you get the Clint Eastwoods of the world off your back and land that career-launching first job?
Cleaning up and ramping up your social media presence may be just the trick.