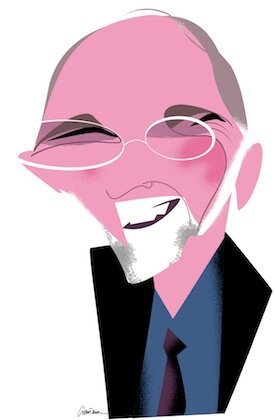 Are you wondering if social media (blogging, Tweeting, QR codes, inbound marketing, and all that stuff) has anything to do with your career?
For every career (unless you're going to be a shepherd, a monk, or a wilderness fire warden), knowing how to use social media for yourself and for your employer is absolutely critical.
Social media is dramatically and permanently changing the way we create, distribute, and consume information as well as the way we brand and market ourselves and the companies we work for. Social media can open opportunities for you and your employer that neither could never have dreamed of before.
If you complete our five-step process, you will stand out from almost every other job applicant because of your knowledge and budding mastery of social media tools, as well as the cool tools you will employ to find your dream job. Here is the five-step process:
AN INTERACTIVE RESUME: Our resumes have  two QR codes, the first taking hiring managers to an introductory video of you demonstrating your energy and industry knowledge, and the second taking them to a video of your best reference saying how great you are (NO other applicants will have these!
A PROFESSIONAL "ME SITE": This site serves as your digital portfolio containing all of your best work and thus ensuring that hiring managers who search for you on the web find the "best" you
A PROFESSIONAL "PASSION BLOG": You create a blog about a key topic in your industry that will showcase the skills your resume says you have, demonstrate your knowledge of you field, raise your profile in your industry (because you'll be interviewing the top players), and build your professional network as more and more of the key people hear from and/or about you.
A SOCIAL MEDIA MARKETING CAMPAIGN: This campaign promotes you because you follow and interact professionally with the key players in the field, and
AN INFORMATIONAL INTERVIEW CAMPAIGN: In the final step, you ask the biggest players in your industry for a meeting to pick their brains and get their advice on your next career steps. This cements your relationship with them and creates over time a powerful network of powerful people who know you by name, respect your work, and will plug you in to the "hidden jobs" market.
That's what we do for you.
And it works.
I've worked with more than 250 students over the last four years, and you can read their exciting and inspirational stories about their successes here.
I can help you find your dream job, too, and have a ton of fun in the process.
Send me an e-mail (john@degrees2dreams) and let's get started!
I am the founder and CEO of Degrees2Dreams, a company I created to empower college students and recent grads to leverage the power of social media to build a rewarding, fulfilling, fun career. I have been working in media for forty years, and continue to speak and consult with media companies around the world, including newspapers and magazines in Norway, Germany, Saudi Arabia, Washington, England, Korea, The Ukraine, Austria, and others. Prior to launching Degrees2Dreams, I worked with major media companies including the Los Angeles Times, The Christian Science Monitor, GlobalPost.com, The Miami Herald, the San Diego Union-Tribune, and BostonNOW. I have also been the editor of multiple online city sites in AOL's Digital City network. Outside of publishing, I am the founder of a self-esteem building soccer program that has graduated 4,000 girls since 1996 (hotshotssoccer.org). I am also a long-board surfer, and have performed as "Mother Ginger" in a Boston production of "The Nutcracker" for the last 15 years. My wife of 36 years and I live in Marshfield, MA with my two daughters.
Latest posts by John Wilpers (see all)